Child Care
I will leave my original description of Art Barn on this page as I know that in time we will get back to some semblance of the ideal.  For now, here are some thoughts on the near future.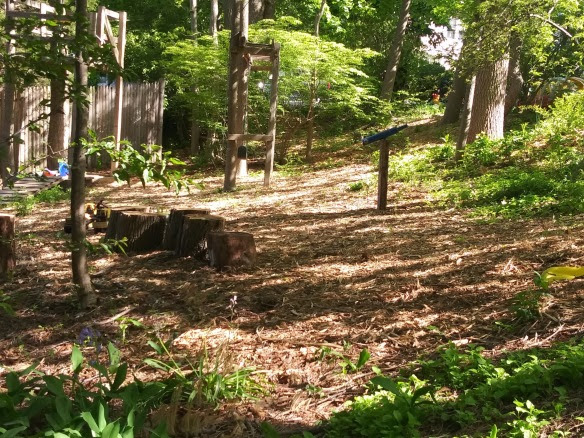 Though the state has eliminated the State of emergency and removed Covid restrictions I will retain many of the adaptations to routines and procedures  adopted.  Suprisingly these have been easy to implement . I intend to be overly cautious yet still provide warmth and comfort to the children.  I have been schooling myself on topics that range from Developing outdoor play spaces to Addressing trauma in a Child care setting.
\.
It is an advantage that I have such a big outdoor space.  We are fearless and go out in all weather.  Upon reopening I plan to spend most of the day outside.  I have weeded the woods!  My goal has been to create a beautiful and engaging space that will stimulate and captivate the children, encouraging their play and exploration of nature.  I will attach some photos to give you an idea.
Inside things will be a bit different in an effort to create the safest environment possible.We are fortunate to have such a large and wide open space.  this will make most adaptations relatively easy.
As for our Art Projects I have have modified our routine so as to allow for more personal space while (hopefully) not impacting the childrens' enthusiasm.
In the past I have allowed the children almost full access to toys, I believe there is great benefit in following the child's lead and allowing for innovation.  With that in mind, in future I will provide children choices that are more focused.  All toys used will be sanitized regularly.
We will work into our daily frequent hand washing.  I will disinfect thoroughly after each diaper change.  At nap time the mats will be arranged 6 feet apart and cleaned each day. Any personal items that come with the child will be sent home daily such as blankets or pacifiers.
Art Barn is learning and living with Art and Nature. Art Barn is a magical place for children to grow and develop through full immersion in the worlds of Art and Nature. The goal of Art Barn is to inspire children to become creative, confident thinkers and makers in constant pursuit of knowledge and understanding of their world. Children are Natural Artists and performers with a need to express themselves. Every experience is internalized. Art gives voice to their reactions, interpretations, and feelings.  
The barn: Complete with with a kitchenette, bathroom, moveable art walls, and lots of light that connects to the landscape outside. Art Barn will provide children with all the comforts of a traditional preschool. We will have great books, cozy spaces, wonderful toys, blocks, dress up, cubbies, a bathroom designed for little people, nap mats and kitchen facilities.
Art will be a way of life. We will sing and dance each morning. We will eat from the cups and bowls that we make. We will dry our hands on hand towels that we have painted or perhaps embroidered. We will fill our space with our creations. I will offer instruction in all areas and facilitate each child's Art process but will not impose upon it. Each piece of work will be unique and reflect the child's own efforts and creativity. Children will be free to create in the garden, yard, or woods as well as in the studio.
The Art studio will offer exposure to a wide array of artistic mediums, such as Drawing , Painting, Printmaking, Collage, Papermaking, Weaving, Sculpture, and Ceramics.
The yard and garden are at the children's disposal. They will dig, explore, catch bugs, plant gardens, harvest, watch birds, chase bunnies, make fascinating collections, learn how plants are reproduced through root systems and seed pods, snack from the fruit trees, and of course, play.
Children will learn to respect the earth. We will compost all that we can and watch the worms and millipedes go at it. We will reuse or repurpose all that we can and we will recycle with dedication. I will use minimal (or none) paper products and environmentally friendly cleaning supplies (like vinegar) at all possible times. I will stress the relationship between healthy living and healthy bodies. All snacks that I provide will be nutritious and delicious (and almost always organic).